NorthCon 2021 Overview
NorthCon still is the record holder for "Germany's biggest LAN Party". After our revival in 2017, our goal is to uphold the successful history of the event, which goes back to the year 2002.
The NorthCon LAN party is known for its unique atmosphere. Although being a large party, you won't feel lost. We are not a purely commercial event, but driven by enthusiasts who love having a good time – and a good party!
Still, we offer many tournaments, some of them with non-cash prizes. So whether you would like to test your gaming skills or just would like to hang out with like-minded people: be welcome!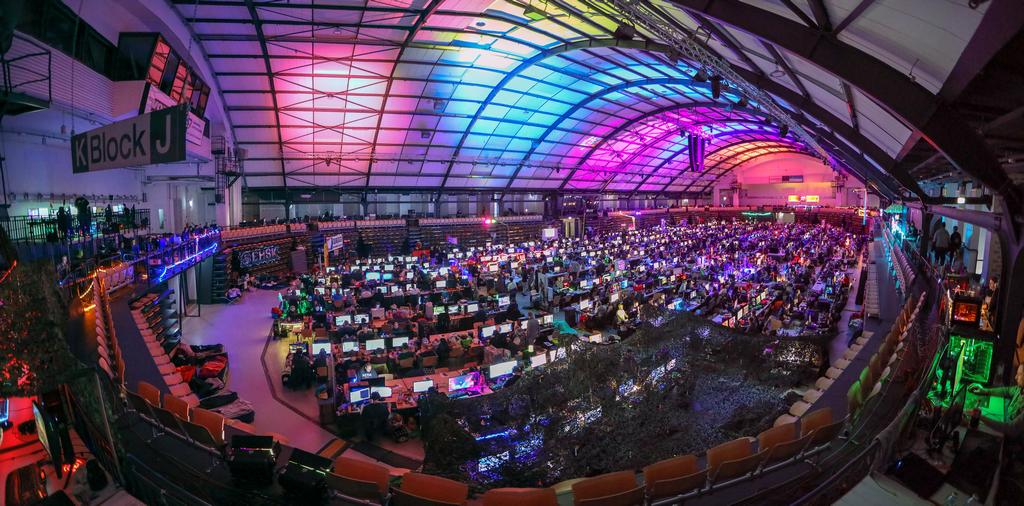 We are sorry that our website is almost completely in German, but Google Translate should do the job for the most part. Still, we are very happy to help you if you have any questions. Also feel free to ask in English in our forums, even though most of the content is in German.
Please read on to get the most important facts about the event.
NorthCon 2021 Overview
Date

Thursday, December 16th, 2021, 5:00 PM until Sunday, December 19th, 2021, 1:00 PM

Location

Holstenhallen Neumünster
Justus-von-Liebig-Str. 2-4, 24537 Neumünster, Germany

Participants

1.348

Minimum age

In order to attend the party, you must be 18 years old – no exceptions. Sorry, but German law is very strict about this.

Catering

Holstenhallen Service GmbH will supply the catering. You can buy food and drinks directly at the venue.

Network

Every guest will be able to use a 1 Gb/s port.

Internet

We have an 10 Gbit/s Internet uplink.

Showers

Shower containers are available in exhibition hall 5 and can be used for free.

Sleeping

We have dedicated sleeping areas, separated from the main hall.

Registration and ticket shop

After creating an account in our system, you can buy a ticket at the shop page for yourself and your mates. Please be aware that each attendee needs to have their own account and ticket to be allowed to enter the venue. Once we have received your payment and marked your order accordingly, you can assign your tickets to other accounts as well as occupy seats with them. Unfortunately, some parts of our homepage are only available in German. If you need support, please don't hesitate to contact us – we will be pleased to help you!

Payment

After placing an order in our shop, you can pay by credit card. Use the button labeled "Echtzeitzahlung starten", which will redirect you to our payment processor.

Contact

Many of our guest are eager to help you; just post your questions in our international forum. If your question might be confidential and not directed to everyone, feel free to contact us by e-mail to: info@northcon.de